Jochebed Bosede Ade-Oshifogun
Ph.D., RN-BC, CNE, PMHNP-BC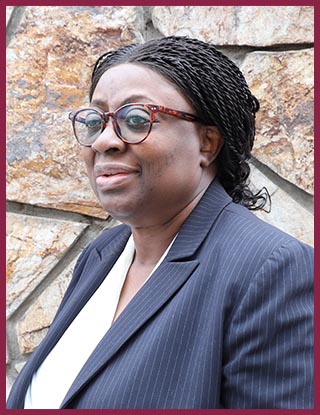 Associate Professor
jade7@nmsu.edu 
575-646-3636
HSSA 211 
Dr. Ade-Oshifogun obtained a Nursing Ph.D. from the University of Illinois at Chicago. She completed a master's degree in nursing education and Critical Care from Governors State University, Illinois, and an MS in Nutrition from the University of Ibadan, Nigeria. She has over 38 years of clinical, management, and teaching experience working in Africa, Europe, and the United States.
Dr. Ade-Oshifogun held management positions in home health and acute and long-term healthcare organizations. She worked as a Joint Commission surveyor and conducted accreditation site visits for ACEN. Her teaching experience includes graduate and undergraduate courses in health assessment, nursing leadership & management, nutrition, anatomy & physiology, pathophysiology, research, EBP projects, informatics, nursing theory, curriculum development, and evaluation. Her most recent position was an endowed nursing chair at Andrews University, where she previously served as the school of nursing chair.

Dr. Ade-Oshifogun coordinated the development of an online Doctor of Nursing (DNP) and Bachelor of Science in Nursing (BSN) completion programs. She developed collaborative educational agreements between the university, international and local colleges. Dr. Ade-Oshifogun served in the US Army as the training officer for her battalion.

Her research foci are educational environment assessment, immigrant research, COPD, nutrition, obesity, culture, and diversity. She authored manuscripts in scholarly journals and has presented her research findings at several national and international scientific conferences.

Dr. Ade-Oshifogun is a constructivist educator who actively involves students learning by pulling from their life experiences. She believes everyone can learn within the right environment.
Education
PhD, University of Illinois
MSN , Governors State University
MS, Nutrition, University of Ibadan
BSN, University of Ile-Ife

Awards & Honors
Teacher of the year award (2011)
Army Achievement Award (2015, 2016, 2017)
Army Achievement Medal (2010, 2013, 2016)
National Collegiate Minority Leadership Award (1994, 1995, 1996)
Faculty Research Awards (2013, 2020, 2021)
Membership in the Nursing Honor Society (STTI) -(1998-2023)
Clinical Focus
Mental Health
Critical Care
Research Interests
Educational environment assessment
Immigrant research
COPD
Nutrition and obesity
Culture, and diversity
Selected Publications
Ade‐Oshifogun, J. B., & Dufelmeier, T. (2012). Prevention and Management of "Do Not Return" Notices: A Quality Improvement Process for Supplemental Staffing Nursing Agencies. In Nursing Forum 47( 2), 106-112.
Ade‐Oshifogun, J. B. (2012). Model of functional performance in obese elderly people with chronic obstructive pulmonary disease. Journal of Nursing Scholarship, 44(3), 232-241.
Aina, J., & Ade-Oshifogun, J. (2018). Factors Contributing to Increased Patient Wait Times in Selected Wound Care Patients: A Retrospective Study. International Journal of Studies in Nursing, 3(2), 44-54
Ade-Oshifogun, J. B., Aina, J., & Olaore, A. Y. (2019). Marital Satisfaction amongst Nigerian Immigrants in North America (NINA): Pilot Study. Asian Journal of Social Science Studies 4(2), 25-31.
Ade-Oshifogun, T. O., Cadet, J. A. & Ade-Oshifogun, J. B. (2019). A cross-sectional study of medical students' perception of their educational environment in Ghana. Journal of Education and Development 3(2), 15 - 24.
Nwanganga, M., Cadet, J., & Ade-Oshifogun, J. (2020). Effects of Pediatric Emergence Delirium Education on Analgesic Administration by PACU Nurses: A Pilot Study. International Journal of Studies in Nursing, 5(1), 58-68
Ade-Oshifogun, B., Kijai, J., Cadet, J., Williams, Z., & Sudhaker, A. (2021). Students' Perception of the Impact of Covid-19 Pandemic on their Educational Environment at Andrews University. Michigan Academician, 48(1).
Bett, S. J., & Ade-Oshifogun, J. (2021). Effectiveness of Educational Intervention on Diabetic Knowledge, Self-Efficacy, and Hba1c Levels of Kenyan Adults with T2DM. Michigan Academician, 48(1), 64-65.
Obikunle, A. F. & Ade-Oshifogun, J. B. (2022). Perspectives of African American Women about Barriers to Breast Cancer Prevention and Screening Practices: A Qualitative Study. African Journal of Reproductive Health. 26(7), 22-28.