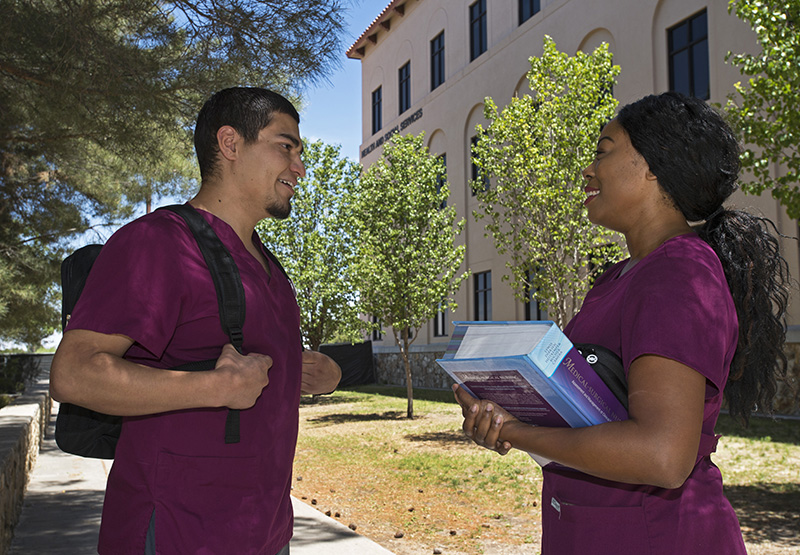 The School of Nursing has partnered with several programs on campus to help our students connect and stay active within the NMSU community.
---
The American Indian Program (AIP) offers services that help American Indian students succeed and achieve their post-secondary goals. They are committed to supporting students on both a personal and an academic level. The AIP provides students with guidance and academic advising, scholarship opportunities, employer recruiting visits, computer and social outlets, library resources, and referral to other campus resources designed to promote student success.
---
The mission of Black Programs, is to unite students of African-American, Caribbean and African descent by increasing the awareness and appreciation of Black history through educational, cultural, social and academic programs. Our mission includes maintaining a vital support network to help students explore their chosen academic fields and succeed in completing their degree program. Black Programs gives the students the support and connections needed to help realize the full potential of each individual. We also deeply encourage students from all backgrounds to participate in our events and student organizations. It is very important for everyone, no matter what their racial/ethnic, religious background, or sexual preference to know they are welcome here and this is a safe place for them to study and have fun.
---
College Assistance Migrant Program (CAMP) is a federally-funded program to help migrant or seasonal farm worker students attend college. Our goal is to ensure each CAMP scholar graduates from NMSU with a bachelor's degree. We offer the first line of support for incoming freshmen to succeed during their first year. We also strive to continue supporting CAMP students to guarantee that they receive the academic guidance to graduate from NMSU.
---
Chicano Programs supports students of ALL ethnic/racial backgrounds. They are dedicated to promoting and empowering ALL student success through education, advocacy and development of cultural literacy. They specialize in supporting first-generation/low income college students in navigating the university environment. Among their services are informal advising, computer lab and lounge, general advise and resources for DACA and undocumented students, scholarship opportunities, as well as tips for applying for scholarships, resume help, etc. 
---
The Department of Student Life ensures students have access to the services and opportunities needed to succeed at NMSU and to develop diverse personal and professional skills necessary to serve, lead, and achieve at a state, national, and global level. Their goal is to help Aggies Discover, Connect, and Engage with the campus community and achieve their academic goals and aspirations!
---
Living Learning Communities (LLCs) are groups of students who share a common interest and live together in the residence halls or apartments. LLCs are a fabulous way to get connected on campus because they provide social and educational opportunities to support student success. There's no extra cost to live in an LLC, but the benefits are huge! Nationally, students who live in LLCs are more satisfied with their college experience and have better academic outcomes. Some LLC students take common courses, which means built-in study groups and neighbors who are also classmates.
---
Nursing students can compete the university honors program while earning their BSN degree. The students who pursue their education in Honors graduate with special distinctions, but even more importantly they graduate with additional skills, knowledge, and abilities that will make them competitive in the global work force. They are supported and encouraged to set ambitious goals for themselves. In most cases a nursing Honors student completes 9 credits as part of their lower division nursing pre-requisite and/or general education courses and 9 upper division credits that can include credits in the BSN program (Honors for contract courses),  VWW courses, or their Honors project.
---
While the School of Nursing has many partnerships, feel free to connect with and explore from over 300 NMSU organizations.