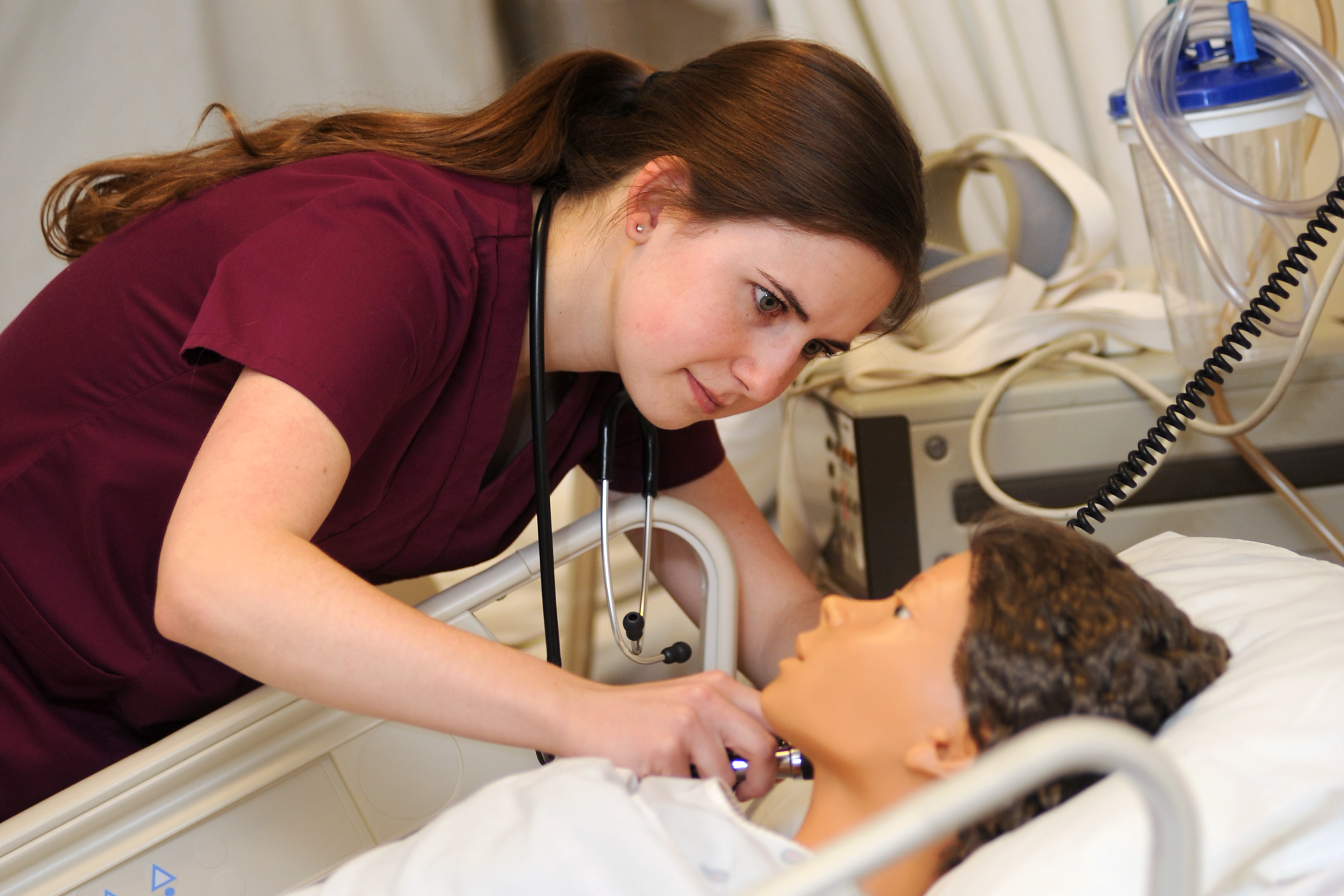 ---
The Bachelor of Science program is available at the NMSU Las Cruces, Alamogordo, and Grants campuses
The Bachelor of Science in Nursing (BSN) program offers options to accommodate students who are earning their first Bachelor's degree, as well as those who already have a Bachelor's degree in another field. Successful graduates of the BSN program are eligible to take the National Council of State Boards of Nursing Exam (NCLEX-RN) for licensure as a registered nurse (RN).
In addition to the traditional 4-year BSN, the NMSU School of Nursing offers two options for students who have a Bachelor's degree in another field and would like to pursue a career in nursing. For more information on our 2nd degree options, please see  The Roadrunner and Pathway 2nd degree options .
The School of Nursing has partnered with NMSU-Grants and NMSU-Alamogordo, to offer the BSN degree at both campuses. BSN students in Grants and Alamogordo receive classroom instruction via videoconferencing and clinical experiences at local healthcare facilities with NMSU School of Nursing instructors. The Roadrunner option for 2nd degree students is not offered at the NMSU-Grants or NMSU-Alamogordo campuses.
---
Application Deadlines
Fall: March 15
Spring: September 1

---
Degree Plan and Program Information

BSN Degree Plan
Download the most current BSN Degree Plan 2022-2023
For a complete list of BSN courses access NMSU's BSN Academic Catalog
Program Information
The BSN program is a four (4) year, 124-125 credit hour degree plan.
The NMSU School of Nursing is a full member of the  New Mexico Nursing Education Consortium (NMNEC) and has implemented the NMNEC common statewide curriculum within the BSN degree plan. 
Traditional BSN students can expect to complete at least three semesters of pre-requisite course work prior to starting the five (5) semester nursing program.
Students will be designated as 'pre-nursing' until they are admitted to the BSN program.
Vaccination Requirements for BSN Students
The August 17, 2021 New Mexico Public Health Order requires all hospital workers and other healthcare workers, with limited exemptions, to be fully vaccinated against COVID-19. Therefore, full vaccination against COVID-19 is required for all BSN students. Nursing students are also required to be vaccinated against measles mumps and rubella (MMR); tetanus, diphtheria, and pertussis (TDaP); infleunza; varicella; and hepatitis B.
Nursing students may request a medical exemption, or an exemption based on a deeply held religious belief, however the NMSU School of Nursing cannot guarantee that a clinical agency will accept the exemption request. For more information, please contact the School of Nursing Advising Office at nursing@nmsu.edu.
Please note that NMSU also requires students to submit COVID-19 vaccination records or requests for exemption at now.nmsu.edu/medproctor.
---
Application Process and Admission Criteria
When you are registered in your last semester of pre-requisite courses, contact the School of Nursing Advising Office at nursing@nmsu.edu to confirm your eligibility to apply, and to request a BSN program application and instructions for taking the HESI Admission Assessment Exam A2 (see BSN Admission Criteria below).
Deadlines for application are February 1st for fall semester start and September 1st for spring semester start. Deadline for Road Runner summer semester start is February 1.
Admission to the BSN Program is a competitive process using a ranked admission score as there are limited spaces available in our BSN cohorts.
| | |
| --- | --- |
| Cohort | Numbers Admitted |
| Las Cruces Traditional (Fall Semester) | 64 |
| Las Cruces Traditional (Spring Semester) | 64 |
| Las Cruces Roadrunners (Summer) | 24 |
| Alamogordo Traditional (Fall Semester only) | 24 |
| Grants Traditional (Fall Semester only) | 8 |
Nursing GPA
Applicants must achieve a minimum nursing pre-requisite GPA of 2.75 in order to be eligible to apply to the BSN program.
Students can repeat a nursing pre-requisite course one time for a grade replacement; however, a repeated course does not count towards the minimum 15-credits required to retain merit-based scholarships per NMSU's policy. More information about the BSN Program Pre-requisite Course Repeat Policy can be found here.
The GPA of accepted students is generally higher than this minimum
HESI Admission Assessment (A2)
BSN applicants are required to take the HESI Admission Assessment (A2) each semester in which they wish to apply to the BSN program. Scores from previous semesters will not be considered. Applicants may take the exam as many semesters as they want to apply to the BSN program, but are responsible for the cost each time they take it.
Applicants are allowed two attempts per semester but must take the entire exam on the first attempt. They may take only those sections in which they wish to improve their scores on the second attempt. The BSN program will accept the high scores from the two exams to factor the applicant's Ranking Composite Score.
 Required Categories

ALL English (Reading Comprehension, Grammar, & Vocabulary)
Biology
Chemistry
Math

 Categories Not Required

Physics
Anatomy & Physiology
BSN applicants must earn at least 75% in each required category to pass the exam.  The cumulative score must be 75% or higher.
The Ranking Composite Score will be calculated on the English Composite, Biology, Chemistry, & Math scores and may be different than the score reported on the HESI student report.
The exams will be open during the following dates:
Fall Traditional, Pathways, and Summer Roadrunner application

Deadline to apply February 1 st
Exams will be open from October 1 to February 1

Spring Traditional and Pathways application

Deadline to apply September 1
Exams will be open from March 1 to September 1
Only exams taken between the dates listed above will be considered for placement in the BSN program.
The BSN program will accept exams taken for other schools if the above requirements are met.  Applicants must provide scores directly to the BSN program via e-mail to nursing@nmsu.edu as the BSN program does not have access to other schools' records.
Admission Score
Admission to the BSN program is a competitive process and is based on ranked admission scores. The NMSU BSN Program Admission Score* is calculated as follows:
| | |
| --- | --- |
| Nursing Program Pre-requisite Course GPA | 40% |
| HESI A2 Admission Assessment Composite Score | 50% |
| New Mexico residents, military students, 135 Mile Out-of-State Tuition Discount Texas resident | 2% |
| Four (4) or more pre-requisite course taken at NMSU | 3% |
| Admission Essay Score (Instructions and topic included in application instructions) | 5% |
*BSN program admission score calculations are subject to change.
Students planning to apply to the BSN program must first contact the School of Nursing Advising Office before applying to the program in order to determine eligibility and to obtain an application.
The info sessions are scheduled for:
September 14, 2022 from 3:00 p.m. to 4:00 p.m.
October 19, 2022 from 3:00 p.m. to 4:00 p.m.
November 16, 2022 from 3:00 p.m. to 4:00 p.m.
All sessions with be held in-person in Room 218 or can be accessed by Zoom using the following link; https://nmsu.zoom.us/j/4157162912
Please feel free to view the following video that provides information for Pre-Nursing majors on the nursing profession, NMSU's Bachelor of Nursing Curriculum, pre-requisites, application process and criteria, and much more. Please note: Christy no longer works with NMSU.
Pre-nursing Advising Information by Campus
Pre-nursing student advising is provided through the NMSU Center for Academic Advising and Student Support ( CAASS) .
Pre-nursing students should meet with their pre-nursing advisor each semester to ensure they are on track with the BSN pre-requisite courses.
Interested Applicants Should Contact:
School of Nursing Advising Center
PH: 575-646-7311
Email: nursing@nmsu.edu
Location: NMSU Main Campus, Health and Social Services (HSS) Building, Room 110.