Cheryl Lombardi
DNP, RN, ACNS-BC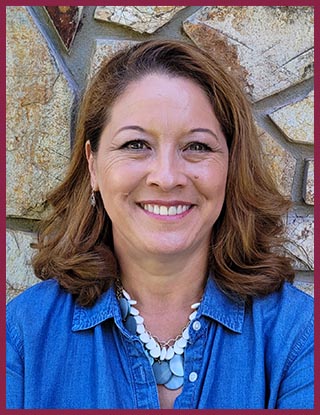 College Associate Professor
lombardi@nmsu.edu
575-646-5866
HSS 229
Doctor Lombardi is a native New Mexican, born and raised in Las Cruces, New Mexico.  She started and completed her entire Nursing education at New Mexico State University.  She is considered "a layer-cake nurse."  She started off with her Associate in Nursing, worked through receiving a Bachelor of Science in Nursing, a Master of Science in Nursing and eventually her Doctorate of Nursing Practice Degree.
During her early years as an Aggie, Doctor Lombardi participated as an 'NMSU Sundancer', cheering on the "Aggies!" She was also a finalist for the "Dallas Cowboys Cheerleaders."
She has worked in a variety of different patient settings as a nurse.  Shortly after receiving her Master of Science in Nursing, she found a new passion in teaching 'our future nurses of America!'  Another crusade that she took on after receiving her Master's Degree was specializing in Vascular Surgery, which continues as of today.
She is happily married and has one son who is currently attending Graduate School as a Physician Assistant.
As she looks down the road, she sees herself continuing as a Nursing Professor at NMSU, contributing to the School of Nursing.
Education
Doctorate of Nursing Practice, New Mexico State University
Adult Clinical Nurse Specialist:  Board Certified with ANCC, New Mexico State University
Master of Science in Nursing, New Mexico State University
Bachelor of Science in Nursing, New Mexico State University
Associate in Nursing, New Mexico State University

Awards & Honors
Nominated for the Daisy Award:  2020 & 2019
NMSU Faculty Mentor Award:  2018
Donald C. Roush Award to Teaching Excellence:  2017