Linda Magill
DNP, RN, ACNS-BC, PMHNP-BC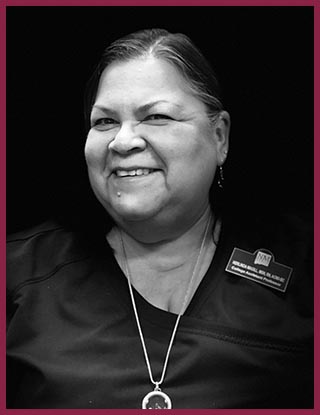 College Assistant Professor
hespinos@nmsu.edu
575-646-3812
HSS 233
Dr. Magill has been with New Mexico State University School of Nursing since the spring of 2008.  She knew she had chosen the right career when she started working in the intensive care unit and loved it. Working in the intensive care unit influenced her End-of-Life Advance Care Planning doctoral project.  As an Advance Practice Registered Nurse, she has provided care for Hospice patients and their families. She also provides primary care for adult and adolescent patients in a local clinic.
She recognizes behavioral health care issues and disparities are all too real; one she knows of personally through family members. She finds teaching students about psychiatric-mental health nursing influences students to examine and understand their own biases or misconceptions. Caring for patients with behavioral health issues is an area of nursing she finds truly gratifying.
Her passion is teaching. She feels touching the lives of future nurses is the best way of giving back to such a rewarding vocation; academia provides her with the ability to do just that. She plans to continue teaching for as long as it brings out the best in her.
Education
DNP, Doctor of Nursing Practice, New Mexico State University
Postgraduate, New Mexico State University
MSN, New Mexico State University
BSN, Nursing, New Mexico State University
Awards
Nominated for the Daisy Award 2021
Training to Care for Aging Populations (TCAP) on the Border 2015
Clinical Focus
Intensive Care
Hospice
Behavioral Health