Linda Summers
PhD, MSN, MPH, MA, FNP-BC, PMHNP-BC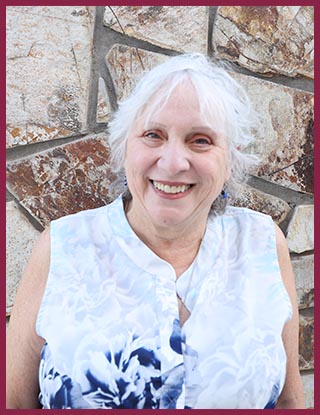 Professor
lsummers@nmsu.edu
575-646-3622
HSS 141
Dr Summers's philosophy in teaching is to provide students with a forum in which creative and effective learning can be found through research, experimentation, collaboration, and dialogue. She encourages her students to step out of their comfort zones. She builds a range of challenges within her class projects for students to research and analyze relevant information that can lead to new discoveries and unexpected design solutions. Hoer courses use a variety of education modalities including video discussions, zoom meetings, Balint Group Meetings, Case studies, use of online simulation, use of several case-based apps and the use of UpToDate health information through websites and journals. In addition, she constantly develops class assignments that build on previous ones because she believes that the skills students gained from previous experiences can always support them as they take on bigger challenges.
Teaching collaboration has been a privilege and a rewarding experience as she has watched her students grow in professional maturity and competence. She makes sure that that she addresses individual comments to each student in her responses to online discussion.  Students frequently feel that they are teaching themselves rather than being provided current information, to avoid this she teaches in the body of the student's discussion adding information related to current health care events throughout the semesters. Through teaching, she helps students shape their identity as Advance Practice Nurses, find their purpose, and make a better imprint on this world.
Education
Post Doctorate Certificate, Brandman University
Master of Public Health, New Mexico State University
PhD, Nursing, University of Texas Health Center
Master of Science in Nursing, University of New Mexico
Master of Art, Counseling and Educational Psychology, New Mexico State University
Bachelors General Studies, Psychology, Indiana State University
Associate of Applied Science, Nursing, Pace University

Awards & Honors
School of Nursing's Memorial Medical Center Endowed Professorship, Memorial Medical Center. (January 2019).
2018 Legacy Awardee, NM Alliance for School-based Health Care. (April 17, 2018).
William and Mary Margaret Hancock Nursing Faculty Excellence Award, College of Health and Social Science. (May 12, 2017).
Excellence in Educational Research, Sigma Theta Tau International. (July 2016).
Dean's Award for Excellence in Teaching, College of Health and Social Services. (April 2015).
Nurse Service Corp, National Health Service Corp. (2012).
2012 Salud Award, Community Foundation of Southern New Mexico. (2012).
2006 Top National Advance Practice Nurse, Cherokee Inspired Comfort Award. (2006).
Distinguish Nurse of the Year, New Mexico Excellence Award. (2006).
National Research Service Award, National Institute of Nursing Research. (2003).
Ethnic Minority Fellowship, American Nurses Association. (2002).
Clinical Focus
Family Psychiatric Nurse Practitioner, ANCC. (2012 - Present).
Family Nurse Practitioner, ANCC. (1996 - Present).
Research Interests
Adolescent primary health care
Mental health evaluation and care.
Integrated primary and behavioral health
Selected Publications
Ochoa, Y., Summers, L. C., Lynch, S. R., DeBlieck, C. J., Kopera-Frye, K. (in press). Implementation of a Pictorial Asthma Action Plan (PAAP) in a Special Population. To appear in American Journal of Clinical and Experimental Medicine.
Ugo, C., Noe, S. R., Lynch, S., Summers, L. C. (2020). Educating Nurses on the Use of the Clinical Opiate Withdrawal Scale to Improve Care of Adult Patients Undergoing Buprenorphine Induction. To appear in Journal of Addictions Nursing, 31(4), 229-235.
DeBlieck, C. J., Summers, L. C., Saiki, L. S., Kuchler, E., Noe, S. R., Lynch, S. R., et al. (2020). Charting Cognitive Growth of Nursing Students Using Linguistic Software. Nurse Educator, 45(1).
Schweiger-Whalen, L., Noe, S. R., Summers, L., Lynch, S., Adams, E. (2019). Converging Cultures: Partnering in Affirmative and Inclusive Healthcare for Members of the Lesbian, Gay, Bisexual and Transgender Community. Journal of the American Psychiatric Nurses Association, 25(6), 453-466. https://journals.sagepub.com/doi/10.1177/1078390318820127
Vallahan, M., Jimenez, E., Nash, J., Gonzales-Pacheco, D., Coakley, K., Noe, S. R., DeBlieck, C. J., Summers, L. C. (2018). Motivational Interviewing to Treat Adolescents With Obesity: A Meta-analysis. Pediatrics, 142(5).
Lynch, S. R., DeBlieck, C. J., Summers, L. C., Reinhardt, A. C., Borges, W. (2018). Adolescent Stress Treatment Study (AST Study): A Cluster Randomized Trial. Clinical Nursing Research (CNR-A-17-055.R1), 01/13/2018, p.105477381775176. mc.manuscriptcentral.com/cnr.
Vallabhan, M. k., Kong, A. S., Jimenez, E. y., Summers, L. C., DeBlieck, C. J., Feldstein-Ewing, S. w., et al. (2017). Training primary care providers in the use of motivational interviewing for youth behavior change.. Research and Theory for Nursing Practice: An International Journal, Vol. 31(No. 3), 219-232. www.ncbi.nlm.nih.gov/pubmed/28793946
Villalobos, O., Lynch, S. R., DeBlieck, C. J., Summers, L. C. (2017). Utilization of a Mobile App to Assess Psychiatric Patients with Limited English Proficiency. Hispanic Journal of Behavioral Sciences, 1 - 12. sagepub.com/journalsPermissions.nav DOI: 10.1177/0739986317707490
Ong-Flaherty, C., Garcia, D., Martinez, D., Borges, W., Summers, L. C. (2017). Effectiveness of gaming in creating cultural awareness. Learning, Culture and Social Interaction, 12, 149-158.
Bajracharya, P., Amatya, A. K., Summers, L. C., DeBlieck, C. J. (2016). Implementation of Depression Screening Protocol and Tools to Improve Screening for Depression in Patients with Diabetes in the Primary Care Setting. The Journal for Nurse Practitioners, 12, pp. 690-696.
Summers, L. C. (2016). Adolescent Disclosure. The International Journal of Health, Wellness and Society, 6(2), 39-59.
Reinhardt, A. C., Keller, T. L., Summers, L. C., Schultz, P. (2012). Strategies for success: A crisis management model for remediation of at-risk students. Journal of Nursing Education, 51(6), 305-311.
Ryutaro, T., Liehr, P., Nishimura, C., Ito, M., Summers, L. C. (2005). The meaning of health for Japanese elders who have had a stroke. Japanese Journal of Nursing, 2, 41-49.
Liehr, P., Ryutaro, T., Liu, H., Nishimura, C., Ito, M., Summers, L. C. (2004). Bridging distance and culture with a cyberspace method of qualitative analysis. Applied Nursing Research, 27(3), 176-186.
Liehr, P., Mehl, M., Summers, L. C., Pennebaker, J. W. (2004). Connecting with others in the midst: Stressful upheaval on September 11, 2001. Applied Nursing Research, 17(1), 2-9.
Summers, L. C., Hales, A., Montes-Sandoval, L., Glasscock, F., Willaims, J., Robbins, L. (2003). Psychiatric-mental health clinical specialist practice in a public school setting. Clinical Nurse Specialist, 17(2), 95-100.
Summers, L. C., Williams, J., Borges, W., Ortiz, M., Schaefer, S., Liehr, P. (2003). School based center viability: Application of the COPC Model. Issues in Comprehensive Pediatric Nursing, 26, 231-251.
Summers, L. C. (2002). Mutual Timing: An essential component of provider/patient communication. Journal of the American Academy of Nurse Practitioners, 14(1), 19-25.